The Garmin vívomove Trend smartwatch combines classic watch design with smart functionality and serves as not just a fashion accessory but also a sports and health assistant for everyday life.
Elegant Design
The vívomove Trend smartwatch by Garmin seamlessly blends style and function, making it the perfect accessory for daily wear. The analog watch design combined with smart features offers a classic and comfortable way to stay connected and track fitness and health.
The vívomove Trend model has a classic look with traditional watch hands. However, when you interact with the touch screen, the hands move to reveal the display and
show important information,
including incoming phone call notifications,
messages from social networks,
heart rate data,
stress level, and other crucial details.
The smartwatch is stylish and functional, featuring a stainless steel bezel and a comfortable silicone strap. It comes in four colors:
classic black,
peach gold with beige,
creamy gold with light gray,
silver.
The watch has a small, domed glass dial that adds a touch of elegance to any outfit, and is available in colors that appeal to both men and women. The black model is a great choice for men with a thin wrist, while the other colors are perfect for women.

Everyday intelligence and health monitoring
The Garmin new smartwatch goes beyond just displaying time and basic health metrics. With advanced health monitoring features, it provides in-depth insights into the user's well-being with helpful recommendations throughout the day. The new model enables you to track physical activity, stress levels, sleep quality, and fluid intake.
With Body Battery™ energy monitoring, you can monitor your energy levels throughout the day and make informed decisions about when to be active and when to rest.
The vívomove Trend watch features 24/7 wrist-based heart rate tracking, with added alerts for abnormal heart rate patterns. You will be notified if your resting heart rate goes outside of a normal range.
The stress tracking feature helps you stay aware of your stress levels throughout the day. If it detects high stress, it will alert you to take a moment to relax and even provide breathing exercises to calm down. It tracks breathing, average heart rate, and changes in stress levels, making it an effective tool for promoting mindfulness.
The advanced Sleep Score feature from Garmin on your vívomove Trend smartwatch provides a personalized assessment of your overnight sleep recovery. Each morning, you can see various stages of your sleep, as well as data on stress, pulse oximetry, and respiration.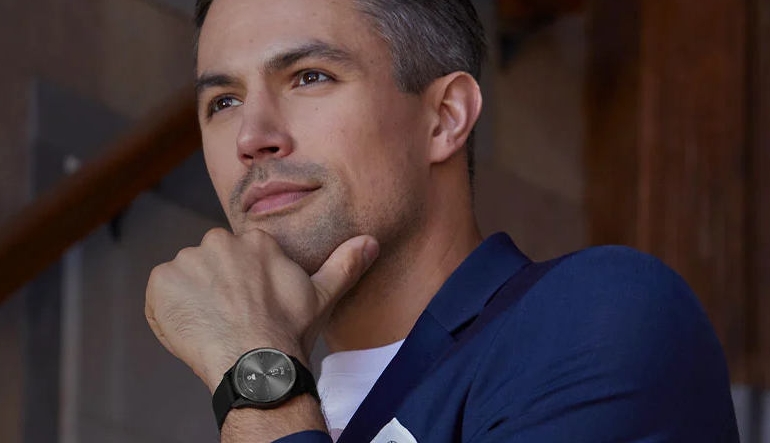 PulseOx function
The vívomove Trend smartwatch is equipped with a built-in pulse oximeter that allows you to monitor your blood oxygen saturation levels at any time of the day, including while you sleep. This feature helps you assess how efficiently your body is absorbing oxygen, ensuring that your health is normal.
Women Health
Track your cycle or pregnancy using the Garmin Connect smartphone app. Record symptoms, receive exercise and nutrition information, and receive notifications directly on the smartwatch screen.
Sports and fitness with vívomove Trend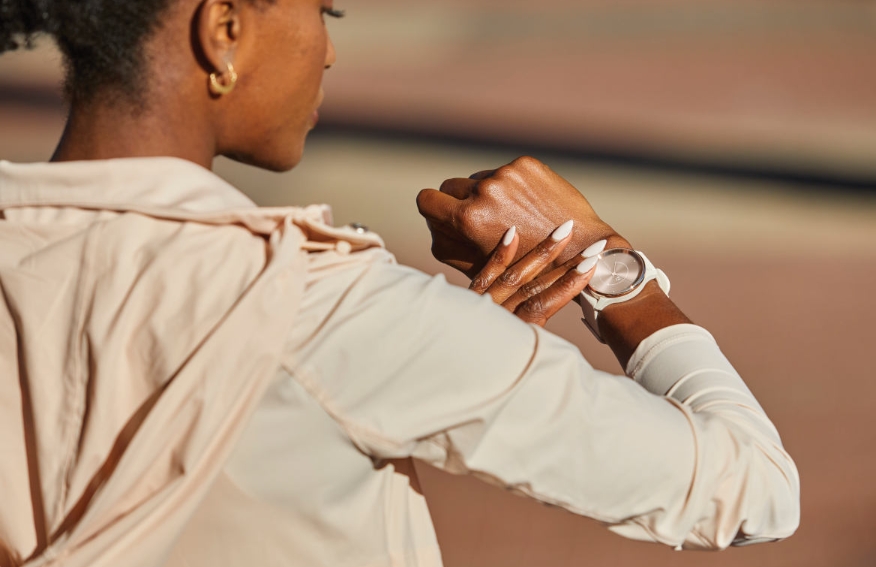 Stay active and learn new exercises! The built-in profiles for strength and cardio training, running, yoga, and other sports activities will keep you fit.
The vívomove Trend smartwatch also links to a compatible smartphone's GPS sensor to track distance, pace, and speed while running, walking, or cycling. You can monitor your training progress with numbers, including the number of steps taken, calories burned, average heart rate, and minutes of intense training.
The Garmin new smartwatch also calculates your fitness age based on factors such as your biological age, activity level, Body Mass Index (BMI), and body fat percentage.
Smartphone pairing
The Garmin vívomove Trend keeps you connected even when you're on the go. By pairing your watch with an Apple® or Android™ smartphone, you can easily receive text messages, view social media updates, email, and more right on your wrist. Android smartphone users can even send quick text replies directly from the watch screen.
The new smartwatch has security and tracking features that enable you to send your location to designated contacts. Whether you're going for a long walk in an unfamiliar area, cycling, traveling, or participating in other recreational activities, the smartwatch has an option to automatically send a message with your location to your contacts in the event of an emergency.
Battery life
The vívomove Trend does not require frequent charging and has a battery life of up to 5 days. When it's time to charge your watch, you can use most Qi-certified wireless charging pads (not included).